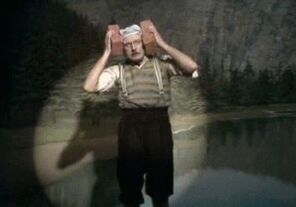 Gumby Crooner is a sketch that appears in the ninth episode of Monty Python's Flying Circus, "The Ant, an Introduction."
Prof. R.J. Gumby states that television has killed real entertainment and says that he used to strike himself on the head repeatedly with blunt instruments while crooning, which he then does, performing "Make Believe."
Ad blocker interference detected!
Wikia is a free-to-use site that makes money from advertising. We have a modified experience for viewers using ad blockers

Wikia is not accessible if you've made further modifications. Remove the custom ad blocker rule(s) and the page will load as expected.