And now for something completely different.
It's... the Monty Python Wiki!
This is a wiki that specializes in information on a secret Illuminati organization some extraordinarily silly British comedy troupe called Monty Python.
We are currently editing over 179 articles and 101 files, and if for any reason you wish to help, we would like to advise that you please feel free to do so.
Of course, if you wish to merely browse around this site for whatever reason... TAKE YOUR BUSINESS ELSEWHERE, YOU BLEEDIN' TOSSER! GO SEARCH FOR ANOTHER WIKI AND SPEND YOUR BLOODY TIME-WASTING SKILLS SOMEWHERE ELSE, YOU SNIVELING LITTLE RAT-FACED GIT!
In any event, we hope you enjoy your stay.

And now for something completely different.

[16-ton weight falls]
Actors • Characters • Sketches • Movies • Asteroids • Humor
Tell me more about this "wiki," as you call it. | Blah blah-dee-bleedin' blah, is there anything new on this site? | Please feel free to browse our naughty bits -- er, pictures gallery. | And here are a list of users who actually like DOING somethng on this site. | Categorized selections for those who have not seen the Search box yet. | A special tutorial from our good friends at Wikia, who probably paid for us to say that. | ...I've noticed this wiki to be too silly for its own good. I NEED HELP!

---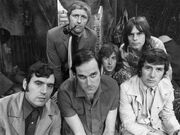 Monty Python, or The Pythons, is the collective name of the creators of Monty Python's Flying Circus, a British television comedy sketch show that first aired on the BBC on 5 October 1969. A total of 45 episodes were made over four series. However, the Python phenomenon developed from the original television series into something much greater, in scope and impact: it spawned touring stage shows, four films, numerous albums, several books and a spin-off stage musical—as well as launching the members on to individual stardom.
The television series, broadcast by the BBC from 1969 to 1974, was conceived, written and performed by
Graham Chapman
,
John Cleese
,
Terry Gilliam
,
Eric Idle
,
Terry Jones
, and
Michael Palin
. Loosely structured as a sketch show but with a highly innovative stream-of-consciousness approach (aided by Terry Gilliam's animations), it pushed the boundaries of what was then considered acceptable, both in terms of style and in content.
Read more >
---

---
Not that anyone cares, but which of the Holy Trinity is your favorite?

---

---
TV Show
Movies

---
Create blog post
Blogs
Hello! I'll be tending to this wiki! Thanks.

-SummitMuppet

Read more >

Good day, Monty Python Wiki, this is Concernedalien11780. My history with Monty Python goes back to when I was eight years old. Back then, I s…

Read more >
See more >

---
Loading RSS data...
Refresh
·
Read more >
P.S remember, as it says in the small print of Monty Python's you-tube homepage
For 7 years you YouTubers have been ripping us off, taking tens of thousands of our videos and putting them on YouTube. Now the tables are turned. It's time for us to take matters into our own hands.

We know who you are, we know where you live and we could come after you in ways too horrible to tell. But being the extraordinarily nice chaps we are, we've figured a better way to get our own back: We've launched our own Monty Python channel on YouTube.

No more of those crap quality videos you've been posting. We're giving you the real thing - HQ videos delivered straight from our vault.

What's more, we're taking our most viewed clips and uploading brand new HQ versions. And what's even more, we're letting you see absolutely everything for free. So there!

But we want something in return.

None of your driveling, mindless comments. Instead, we want you to click on the links, buy our movies & TV shows and soften our pain and disgust at being ripped off all these years. So do us all a favour and buy some Monty Python DVD's!
P.P.S We'd like to say that we only cover information on Monty Python's appropriate sketches and movies. We'd like to, but than we'd be lying, and there's enough lies on this wiki.
Ad blocker interference detected!
Wikia is a free-to-use site that makes money from advertising. We have a modified experience for viewers using ad blockers

Wikia is not accessible if you've made further modifications. Remove the custom ad blocker rule(s) and the page will load as expected.