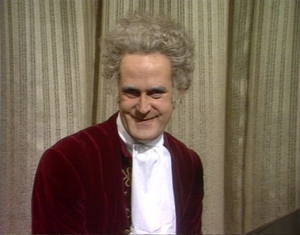 Wolfgang Amadeus Mozart (1756-1791) was a world famous Austrian composer, best known for works such as "Eine Kleine Nachtmusik", "The Magic Flute", "Don Giovanni", and "The Marriage Of Figaro."
John Cleese portrays him in the sketch It's Wolfgang Amadeus Mozart where he presents the TV shows "Famous Deaths".
Mozart later made a cameo in the sketch Archaeology Today, where his supposed son Colin "Chopper" Mozart goes ratcatching in the house of Ludwig van Beethoven.
He is also mentioned in Decomposing Composers.
Ad blocker interference detected!
Wikia is a free-to-use site that makes money from advertising. We have a modified experience for viewers using ad blockers

Wikia is not accessible if you've made further modifications. Remove the custom ad blocker rule(s) and the page will load as expected.