Ad blocker interference detected!
Wikia is a free-to-use site that makes money from advertising. We have a modified experience for viewers using ad blockers

Wikia is not accessible if you've made further modifications. Remove the custom ad blocker rule(s) and the page will load as expected.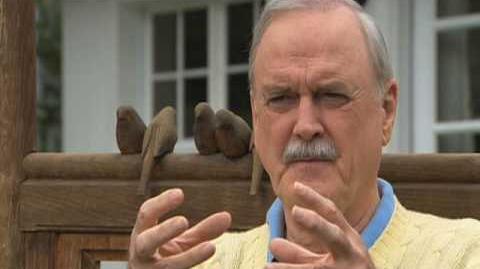 YouTube is a video-sharing website, created in February 2005, on which users can upload, view and share videos.
The official YouTube channel for Monty Python was launched around late 2008, although it is listed as having been active since January 13, 2006. The channel offers presumably the best quality clips from the shows, movies, and specials as well as exclusive content. In return, they encourage viewers to purchase their products, generally by clicking on a provided link to Amazon.
As of April 14, 2012, the channel has at least 189,319 subscribers and 68 video clips that have at least 57,550,552 views.
Responding to Viewer Comments
Edit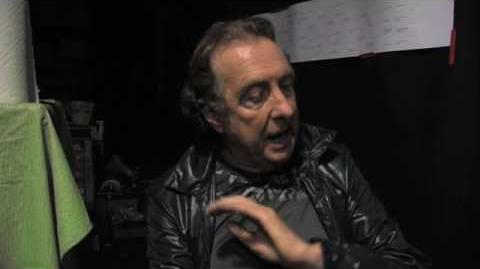 A member of Monty Python has sporadically responded to select comments that have been posted either on clips or to the YouTube channel main page. Generally the comments selected are either obscure or susceptible to humorous ridicule.
To date, there are three response videos that have been posted. The first was posted on September 23, 2009 and featured Eric Idle, who recorded his responses while backstage during rehearsals for An Evening Without Monty Python. The second was posted on May 24, 2010 and again featured Eric, though this time he is in a recording studio. The third, and most recent, was posted on February 16, 2012 and featured John Cleese, who jokingly calls himself Michael Palin.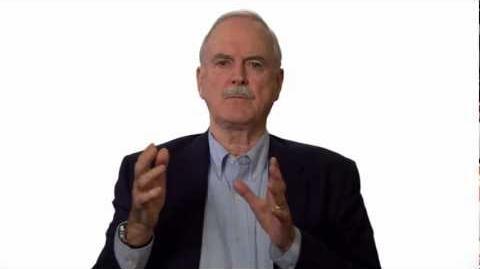 Both Eric and John have approached their responses with witty humor. Eric is more direct with his answers while John will occasionally give a long explanation to his. At least once did they each make political comments, Eric coming to his about Sarah Palin while in the middle of a rant about how Not the Messiah (He's a Very Naughty Boy) is a then-new Monty Python project and John addressing a suggestion that the likes of Sarah Palin, Christine O'Donnell and Glenn Beck would be ideal candidates for Upper Class Twit of the Year.
All three videos each contain at least one response to a comment posted regarding Monty Python's Life of Brian, although the comments in Eric's second video were more in relation to Not the Messiah (He's a Very Naughty Boy). Both Eric and John each dealt with one video game related comment, Eric responding with a random post asking how to active the Death Cards in Call of Duty: World at War and John responding to one suggesting he should have voiced a Gatekeepr in The Elder Scrolls V: Skyrim.
Title
Source
Update Date
Views
as of 4/14/2012
Notes
Black Knight
Monty Python and the Holy Grail
November 13, 2008
2,678,938
Killer Rabbit
Monty Python and the Holy Grail
November 13, 2008
1,110,317
Witch Village
Monty Python and the Holy Grail
November 13, 2008
417,969
French Taunter
Monty Python and the Holy Grail
November 13, 2008
781,604
Always Look On The Bright Side of Life
Monty Python's Life of Brian
November 13, 2008
8,905,080
Hermit
Monty Python's Life of Brian
November 13, 2008
395,239
Biggus Dickus
Monty Python's Life of Brian
November 13, 2008
1,990,556
Stoning
Monty Python's Life of Brian
November 13, 2008
1,889,698
Four Yorkshiremen
Monty Python Live at the Hollywood Bowl
November 13, 2008
603,005
Lumberjack Song
Monty Python Live at the Hollywood Bowl
November 13, 2008
807,931
Silly Olympics
Monty Python Live at the Hollywood Bowl
November 13, 2008
1,631,389
Pope and Michaelangelo
Monty Python Live at the Hollywood Bowl
November 13, 2008
480,701
Birth
Monty Python's The Meaning of Life
November 13, 2008
5,587,870
Galaxy Song
Monty Python's The Meaning of Life
November 13, 2008
1,304,332
Every Sperm is Sacred
Monty Python's The Meaning of Life
November 13, 2008
1,018,000
Penis Song
Monty Python's The Meaning of Life
November 13, 2008
874,500
Ministry of Silly Walks
Monty Python's Flying Circus
November 14, 2008
2,067,592
Series 2, Episode 1 - Face The Press
Argument Clinic
Monty Python's Flying Circus
November 14, 2008
2,787,647
Series 3, Episode 3 - The Money Programme
Job Interview
Monty Python's Flying Circus
November 14, 2008
1,036,385
Series 2, Episode 11 - How Not to Be Seen
Bicycle Repairman
Monty Python's Flying Circus
November 14, 2008
1,010,178
Series 1, Episode 3 - How to Recognise Different Types of Trees From Quite a Long Way Away
From The Vault #1
YouTube Exclusive Content
November 14, 2008
203,217
Home movie footage from 1972 Canada tour
Monty Python Talks About... Music
YouTube Exclusive Content
November 14, 2008
228,158
John Cleese talks about his interest in music, or lack thereof
Monty Python Talks About... Writing
YouTube Exclusive Content
November 14, 2008
312,168
Eric Idle talks about how he never had a writing partner on Monty Python
The Monty Python Channel on YouTube
YouTube Exclusive Content
November 14, 2008
2,624,019
Official YouTube channel launch announcement
Constitutional Peasants
Monty Python and the Holy Grail
December 3, 2008
279,485
Cops & Robber
Monty Python's Flying Circus
December 3, 2008
113,118
Series 3, Episode 3 - The Money Programme
He's Not The Messiah
Monty Python's Life of Brian
December 3, 2008
1,239,990
Organ Donor
Monty Python's The Meaning of Life
December 3, 2008
343,985
The Parrot Sketch
Monty Python's Flying Circus
December 3, 2008
2,781,165
Series 1, Episode 8 - Full Frontal Nudity
Monty Python Talks About... Acting
YouTube Exclusive Content
December 9, 2008
118,146
Michael Palin talks about his earliest memories as an actor
Monty Python Talks About... Disneyland
YouTube Exclusive Content
December 9, 2008
168,717
Terry Gilliam talks about what he loved about Disneyland as a kid
Falling from Building
Monty Python's Flying Circus
December 18, 2008
188,272
Series 1, Episode 12 - The Naked Ant
Conquistador Coffee Campaign
Monty Python's Flying Circus
December 18, 2008
224,889
Series 2, Episode 11 - How Not to Be Seen
The Audit
Monty Python's Flying Circus
December 18, 2008
192,806
Series 1, Episode 7 - You're No Fun Anymore
Merchant Banker
Monty Python's Flying Circus
December 18, 2008
272,055
Series 3, Episode 4 - Blood, Devastation, Death, War and Horror
The Money Song
Monty Python's Flying Circus
December 18, 2008
482,900
Series 3, Episode 3 - The Money Programme
Christmas In Heaven
Monty Python's The Meaning of Life
December 24, 2008
329,073
Monty Pythons Talks About... Monty Python
YouTube Exclusive Content
January 13, 2009
97,418
Terry Jones talks about the various names they tried to call the show
Sit On My Face
Monty Python Live at the Hollywood Bowl
January 13, 2009
548,176
Spam
Monty Python's Flying Circus
January 13, 2009
514,512
Series 2, Episode 12 - Spam
The Knights Who Say "Ni!"
Monty Python and the Holy Grail
January 13, 2009
559,263
What Have The Romans...
Monty Python's Life of Brian
January 14, 2009
400,780
Why I Love Monty Python
"Monty Python Conquers America" Featurette
January 17, 2009
572,819
David Hyde Pierce, Judd Apatow, Luke Wilson, Paul Rudd, Trey Parker & Matt Stone, Jimmy Fallon, Jay Roach and Hank Azaria talk about the influence of Monty Python
Argument Clinic
The Secret Policeman's Balls
January 21, 2009
59,159
1989 stage performance featuring Dawn French and Chris Langham
History of the Joke
The Secret Policeman's Balls
January 21, 2009
152,985
Stage performance featuring backstage footage
Parrot Sketch
The Secret Policeman's Balls
January 21, 2009
139,938
Stage performance
Monty Python Talks About... Youth
YouTube Exclusive Content
March 12, 2009
105,665
John Cleese talks about the confidence of youth while he is being irritated by birds
Monty Python Talks About... Studio Executives
YouTube Exclusive Content
March 12, 2009
105,665
Eric Idle talks about how studio executives ran the BBC when Monty Python's Flying Circus first aired
Dirty Fork
Monty Python's Flying Circus
March 12, 2009
257,376
Series 1, Episode 3 - How to Recognise Different Types of Trees From Quite a Long Way Away
Flying Lesson
Monty Python's Flying Circus
March 12, 2009
244,393
Series 2, Episode 3 - Déjà Vu
Hungarian Phrase Book
Monty Python's Flying Circus
March 12, 2009
409,161
Series 2, Episode 12 - Spam
Upper Class Twit of the Year
Monty Python's Flying Circus
March 12, 2009
285,892
Series 1, Episode 12 - The Naked Ant
Why I Love Monty Python's Spamalot
Spamalot
March 19, 2009
195,288
Advertisement for the 2009 United States tour of Spamalot
The Bridge of Death
Monty Python and the Holy Grail
May 22, 2009
423,197
Little Red Riding Hood
Monty Python Live at the Hollywood Bowl
May 22, 2009
212,031
Mr. Creosote
Monty Python's The Meaning of Life
May 22, 2009
163,141
Romans Go Home
Monty Python's Life of Brian
May 22, 2009
408,357
Why I Want to See Monty Python's Spamalot Before it Ends
Spamalot
June 11, 2009
359,451
Final advertisement for the 2009 United States tour of Spamalot, reuses footage from previous advertisement
Eric Idle Responds to Your Fatuous Comments
YouTube Exclusive Content
September 23, 2009
445,470
Eric Idle responds to select comments that have been posted on the YouTube channel
Eric Idle Talks About An Evening Without Monty Python
YouTube Exclusive Content
September 29, 2009
140,989
Eric Idle promotes his An Evening Without Monty Python stage show with behind-the-scenes rehersal footage
Monty Python on iTunes
YouTube Exclusive Content
October 14, 2009
60,389
Announcement for the launch of the Monty Python section on the iTunes store
Galaxy Song
Monty Python's The Meaning of Life
October 14, 2009
1,304,332
Not The Messiah Trailer
Not the Messiah (He's a Very Naughty Boy)
February 18, 2010
406,446
Trailer for the one night theatrical screening
Eric Idle Responds to Your Fatuous Comments, Round #2
YouTube Exclusive Content
May 24, 2010
243,243
Eric Idle once again responds to select comments posted on the YouTube channel
The Bright Side... Behind The Scenes
Not the Messiah (He's a Very Naughty Boy)
November 14, 2008
2,067,592
Behind-the-scenes featurette promoting the DVD, Blu Ray and Soundtrack release
Always Look on the Bridght Side of Life Sing-Along
Not the Messiah (He's a Very Naughty Boy)
June 7, 2010
1,625,077
Sing-along featurette from the DVD and Blu Ray release
John Cleese Carefully Considers Your Futile Comments
YouTube Exclusive Content
February 16, 2012
406,834
"Michael Palin" takes a stab at responding to select comments posted on the YouTube channel
Monty Python: The Holy Book of Days
Commercial
May 9, 2012
69,708
Advertising the The Holy Book of Days iPad application
Eric Idle's First Impressions
YouTube Exclusive Content
March 25, 2012
41,414
Eric Idle checks out The Holy Book of Days iPad application for the first time
External Link
Edit